Pumpkin & Corn Soup, Revised
mliss29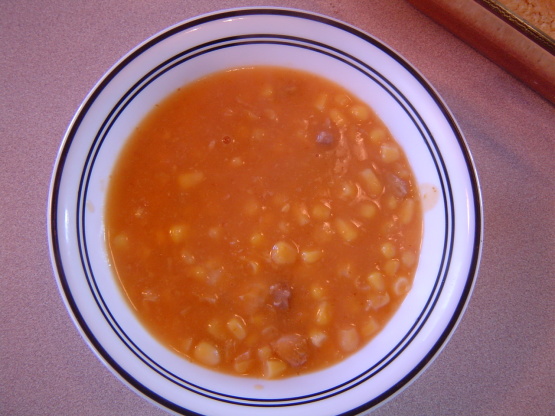 After several decades of making the original of this recipe [along with a couple of suggestions on how to improve it], I decided to post a revised recipe rather than going back & rewriting the original. I find this version thicker & more tasty!

The first time I made this (the whole batch) it came out too thick and kind of bland. Then I tried adding coconut milk instead of half and half (we're diary free), and it was nasty! I won't do that again. The 2nd time, I halved it (still made enough) but added 1 C leftover gravy and 1 C homemade beef broth and no milk. Still felt it needed some more flavor, so I added garlic powder. It wasn't too bad then! Maybe chicken would give it some more flavor. Still a good way to get in another super food! Tagged in Please Review.
In large saucepan, combine broth, corn, pumpkin [& chicken, if it is to be included], & mix well.
Heat thoroughly.
Add half-and-half, minced onion, salt & pepper, stirring well to mix.
Heat thoroughly, before serving, but DO NOT BOIL.