Pumpkin Chocolate Chip Bread/Muffins
Pam-I-Am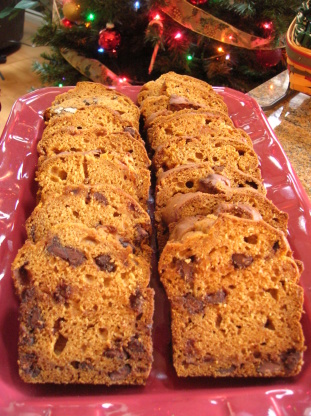 This was originally a bread recipe, but I always make them as muffins! It's definitely a favorite, and can easily be halved. Cooking time is for the bread.

Top Review by Naner
Delicious recipe, that's good for the kids. I used about 1/2 c. oil and the muffins still came out good. Next time, I will use just a slight bit more cinnamon to go with the sweet chocolate.
Mix all ingredients (chocolate chips last).
If making loaves, pour into greased pans and bake at 350 degrees for 1 hour or until knife comes out clean.
If making muffins, fill greased or paper-lined tins 3/4 full and bake at 350 degrees for 20-25 minutes or until set.
Note: Makes 1 large bundt, 6 small loaves, 2 regular sized loaves, or 24 muffins!