Pull Apart Cheddar Bacon Ranch Bread
moallc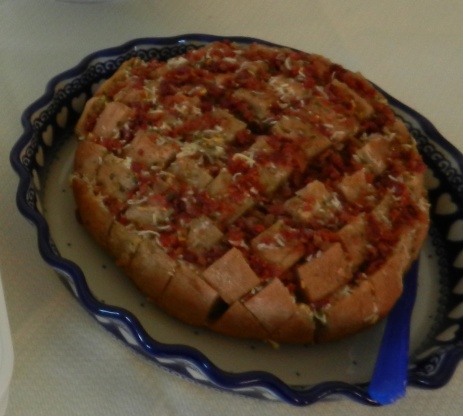 I call this a man's 'dessert'. Great for a football party or any gathering of men...if they can get it away from the women.

Hi GailAnn. I made this bread to go with a crock of chili. Everyone loved it! I'll have to admit, I made some 'slight' alterations. I used shredded cheddar, since that's what I had on hand. I also used onion dip mix in place of the ranch dressing mix, since that's what I had on hand. No matter... it was delicious! Thanks for the recipe. (I will try it next time with ranch).
Preheat oven 350 degrees.
Using a sharp bread knife, cut the bread into about 1 inch slices from side to side going in both directions, repeating until entire loaf is cut. Do not cut through the bottom crust. It should look something like an onion mum.
Place slices of cheese inbetween slits. Sprinkle bacon bits on bread, making sure to tuck most between cuts.
Mix together butter and dry Ranch dressing mix. Pour over bread. If desired, dust with a couple of twists of freshly ground pepper.
Wrap in foil the entire loaf in foil, folding to seal. Place on a baking sheet; bake for 15 minutes. Unwrap. Bake for an additional 10 minutes or until cheese is melted.