Prosciutto and Egg Panini
Rita1652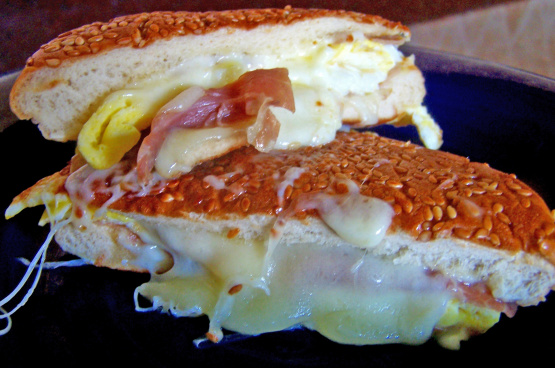 From Real Simple Magazine and it is real simple to make! EDIT: After reading some of the reviews, you may want to reduce the amount of eggs.

Fantastic recipe!! I just tryed it this morning and thought it was amazing! I didnt have sandwich buns, but I did have som eleft over Hawaiin Sweet Bread rolls left, and it add SUCH a flavor! The sweetness of the bread brought the saltyness of the prosciutto. It complimented each other greatly! Try it!
In a small bowl whisk together the eggs, salt, and pepper.
Melt 1 tablespoon of the butter in a large nonstick skillet over medium heat.
Pour in the eggs and scramble until cooked through.
Divide the eggs among the bottom halves of the rolls.
Add the prosciutto and cheese and sandwich with the tops of the rolls.
Melt the remaining butter in a grill pan or large nonstick skillet over medium heat.
Add half the sandwiches to the skillet.
Cook, pressing frequently with the back of a spatula or placing another pan on top of the sandwiches to weigh them down, until the cheese has melted and the bread is golden, 4 to 6 minutes.
Repeat with the remaining sandwiches.