Zurie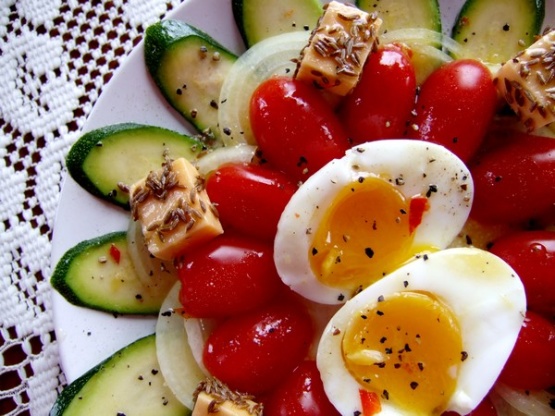 Quick and very healthy! For eye appeal, arrange on a large platter, or in individual portions. Great with grilled meats or as a light lunch with bread and a glass of chilled wine. Delicious, healthy dressing, but adjust to taste.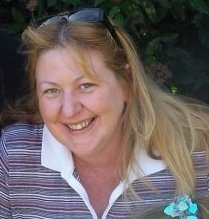 Top Review by Jubes
An easy salad to prepare and such pretty presentation....looked just like a flower on my plaes. Served in individual plates. I didn't have cumin seeds so just used ground cumin instead and carried this flavour through to chicken tenders tossed in cumin and pan cooked. I haven't had raw zucchini before and was pleasantly surprised. Cut very finely it tasted almost like cucumber. Such a pretty salad that would be lovely served to guests. Really a meal on its own with the addition of the eggs. I reallly enjoyed the dressing for this salad also and happy to have some left over for another salad tomorrow. Photo also to be posted
DRESSING

1⁄3 cup orange juice, freshly squeezed

1 -2

tablespoon lime juice, freshly squeezed (or use lemon juice)

1

tablespoon honey

1

teaspoon yellow mustard
1⁄2 teaspoon salt (pref flaked sea salt)
1⁄3 cup virgin olive oil

SALAD

6

zucchini, about 6-inch long and 1-inch thick

1

medium purple onion

3

ounces yellow cheese, cubed (I used Gouda, but use any you like)

3

tablespoons cumin seeds

24 -36

grape tomatoes, baby

4 -6

eggs, boiled but not hard (about 5 mins boiling time)
Make the dressing: whisk the orange and lime juice, the honey and mustard in a bowl until well mixed. Slowly add the olive oil while whisking. Please taste, as you may want more citrus juice or more honey.
Slice the cleaned zucchini thinly on the diagonal, so you have pretty oval shapes.
Clean and thinly slice the onion, and cut slices in half again. Cube the cheese, about 6 cubes per portion of salad.
Slice the baby grape tomatoes in half lengthwise.
Peel the eggs -- they should still feel a little soft in your hand, because you want slightly runny yolks.
Use a little of the dressing and toss the cheese cubes in the dressing, then roll in the cumin seeds.
Using either 4 - 6 small plates, or 1 large platter, fan out the zucchini ovals along the edge of the plate. Arrange the thin onion slices slightly lower down, then arrange the halved tomatoes round the circle as well.
Dot the cumin-covered cheese cubes around the ring of tomatoes.
Slice each egg carefully in half lengthwise, and arrange the eggs in the centre of the plate.
Whisk the dressing to mix again, then drizzle the dressing generously over the salad, and finish off with coarse black pepper.
(You will probably have some of the dressing left. Keep in fridge to use another day).