Pressed Peanut Butter Cookies
PaulaG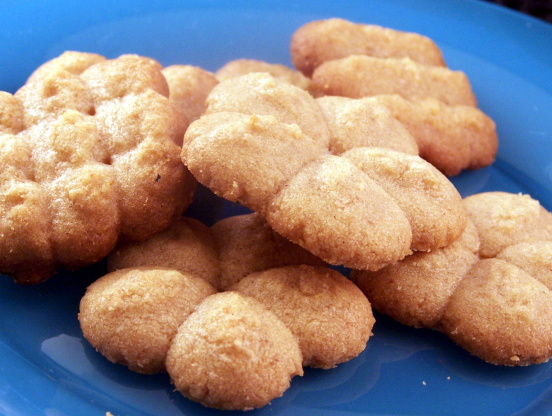 These are wonderful cookies to use in a cookie press. The dough is the right consistency and the cookies are delicious. My sister, Jayne, made these for her children all the time when they were small.

These are good little cookies! It was my first time using my cookie press and I decided to use this recipe to make cookies for the office. I doubled the recipe, added a teaspoon of vanilla extract and only had to bake them for 6 minutes or else the bottoms would burn. I also made the dough a day in advance and kept it in the fridge and it was still easy to handle since the dough is so soft. After they cooled a little, I dipped them halfway in chocolate and it made them even better! Thanks for sharing your recipe!
Cream the shortening; gradually add sugars.
Then mix in other ingredients with spoon.
Fill cookie press with dough.
Place cookie dough on ungreased baking sheet.
Bake at 375°F 10 to 12 minutes or until golden brown.
Remove to wire rack to cool.