Prawns, Bean Purée and Onions in Red Wine
Thorsten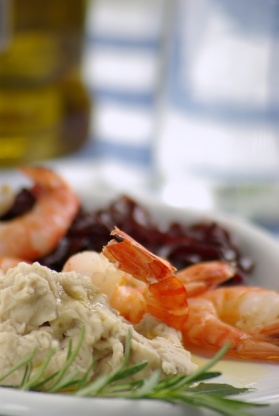 Prawns in a delicious combination with a bean puree and onions cooked in red wine.
Onions in Red Wine

6

small onions (about 2/3 pounds)

2

cups red wine (or a bit more)

2

tablespoons aceto balsamico (red)

1

bay leaf

2

cloves

1

cinnamon stick (about 2 inches long)

1

tablespoon honey (or to taste)
salt and pepper

Bean Puree

2

(15 ounce) cans cannellini beans

1

sprig rosemary (about 4 inches long)

1

sprig rosemary (about 2 inches long, only leaves)

2 -3

tablespoons olive oil
salt & pepper

Prawns

2

lbs prawns (in shell)

Serving
ONIONS: Peel onions and cut into thin slices.
Put onion rings into pot with red wine, aceto balsamico, bay leaf, cloves and cinnamon and bring to a boil. Then let cook on low heat for about 45 minutes.
In the end the onions should be very soft and the fluid should be boiled away. If onions not tender after 45 minutes add some more wine.
When onions are soft and tender add honey and salt and pepper to taste. Keep warm until serving.
BEANS: Meanwhile put canned cannellini beans into a pot with the fluid. Add garlic and rosemary sprig and warm up on low heat. Should take about 15 minutes.
In the end the beans should be tender, but they should not fall apart. When beans are tender pour off through a sieve, but remain some of the fluid.
Put beans into a food processor and add rosemary leaves. Add olive oil and puree until smooth. If still too dry add some of the cooking fluid. Keep warm until serving.
PRAWNS: Place a steamer basket in a suited pot and fill in just enough water, that it will not reach the steamer basket. Bring water to a boil.
Add prawns in shell and cook for about 6-8 minutes or until prawns are done. If you prefer peeled prawns cook them for about 4-6 minutes only.
SERVING: on a preheated serving platter arrange the bean puree, the onions and prawns. Drizzle some olive oil over the puree and prawns. And salt prawns slightly.