Potato Wedges With Roasted Garlic Dip
Lalaloula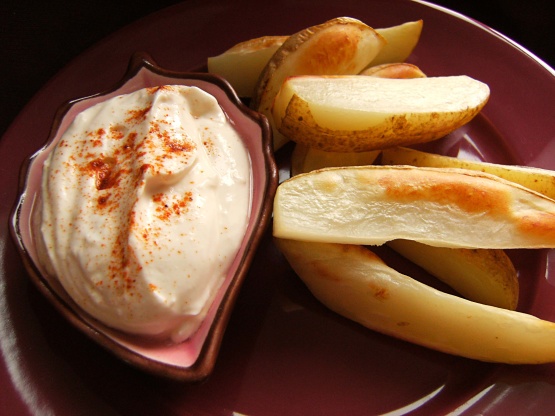 From Contemporary and Traditional Tapas Dishes. I just love the dip!

What a wonderful combination of flavours!!!! I loved the sweetish, roasty garlic dip with the simple salted fries and the roasted garlic pieces. YUM!!!! Perfect Potatoes indeed! I will surely make this often again as it comes together quickly and rewards you with a scrumptious meal! THANK YOU SO MUCH for sharing your recipe with us, Julie! Made and reviewed for the Aussie/NZ Recipe Swap #42 July 2010.
MAKE THE ROASTED GARLIC DIP:
Preheat the oven to 400°. Place the garlic cloves in an ovenproof dish, then pour in the olive oil and toss to coat. Spread out in a single layer and roast in the preheated oven of 25 min or until tender. Remove from the oven and let stand until cool enough to handle.
Peel the garlic cloves, then place on a heavy cutting board and sprinkle with a little salt. Mash well with a fork until smooth. Scrape into a bowl and stir in the sour cream and mayonnaise. Season to taste with salt and paprika. Cover the bowl with plastic wrap and let chill until ready to serve.
MAKE THE POTATOES:.
To cook the potatoes, cut each potato half into 3 wedges and place in a large bowl. Add the olive oil, garlic, and salt and toss well. Transfer to a roasting pan, then arrange in a single layer and roast in the preheated oven for 1-1 1/4, or until crisp and golden.
Remove from the oven and transfer to serving bowls. Serve immediately, handing round the roasted garlic dip separately.