Nasseh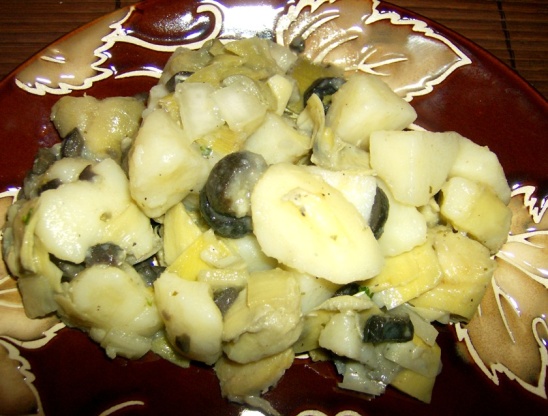 An unusual (for me) blend of ingredients in a non-mayo potato salad. I prefer it warm but the original recipe does suggest serving it chilled. Your choice.

all i can say is yum. oh yeah delicious and wonderful. we loved this. i actually sprinkle some crumbled feta on top and quadrapled the kalamata olives. terrific recipe!!!
Place potatoes in a saucepan and cover with water. Bring to a boil and cook 20 minutes or until tender.
Add the green beans to the potatoes and cook 2 minutes more or until beans are crisp-tender. Remove from heat and drain well.
Drain artichokes, reserving 2 tablespoons of the yummy marinade.
Chop artichokes and add to potatoes and beans. Toss in the olives.
Combine reserved artichoke marinade, vinegar, parsley, salt and pepper.
Drizzle dressing over salad, tossing to coat. Cover and chill.
Serving = 1 cup.