Pork Loin Chops With Simple Savory Sauce
MollyLin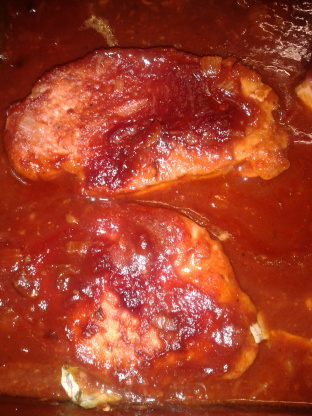 I threw this together in less than 30 minutes. The outcome was raves all around the table. Always trying to come up with ways to cook chicken or pork, I finally made a sauce that my family said was "off the hook". This dish was so easy to make and was well received with my Fluffy Rice Pilaf.

I give this 5 stars because of the taste... it's really good. My 9 year old son says if there were 10 stars he'd give that. As a personal preference, I enjoy my pork chops slow cooked for a long time so they are more tender than this recipe allows, so I'll probably do it in a crock pot next time. The taste, though, was really good and my son "demands" I put 5 stars. ;)
In a 4 cup measuring cup, I combined the cranberry sauce, chili sauce, brown sugar, chili powder, garlic and onion salt with the cumin and cayenne. Mix well to incorporate the sugar.
In a large reseable bag, combine flour, salt and pepper. Add pork chops one at a time and shake to coat. Set on plate until all have been coated and can be cooked together.
In a large skillet cook pork in olive oil over medium high heat 4-5 minutes on each side or until juices run clear.
Pour sauce mixture over the pork and cover once it comes to a boil. Reduce heat, simmer 10 minutes.
Served with Rice Pilaf and a crisp green salad. YUM!
Hope you enjoy!