lazyme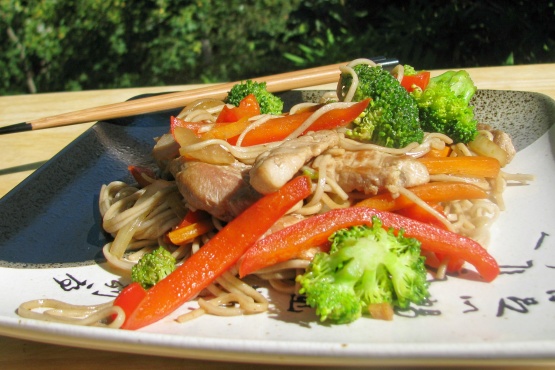 Had some left over pork and was planning on making pork chop suey, but we had rice for the last two nights so I decided to make pork lo mein, but none of the recipes on Zaar really fit the ingredients that I had so I came up with this which is a variation of a couple of recipes I found here. My daughter thought it was great. Hope you enjoy it.
Top Review by Pat S.
I never write reviews but I felt I had to post to this one. This was delicious and just like traditional Lo Mein. I used everything but the caynne pepper plus I added other vegetables I had in the fridge that needed to be used up such as cabbage and mushrooms. I also calculated it to be 3 Weight Watchers Smart points. This is definitely a keeper.
1. Heat oil in a large skillet or wok.
2. Add onion, carrots, red pepper, broccoli, garlic, and ginger. Stir fry until tender crisp.
3. Add cooked pork roast, spaghetti, and water chestnuts, and cayenne pepper, and cook over low heat, stirring occasionally until heated through.
4. Wisk together remaining ingredients, add to skillet or wok and cook until thickened.