SocaliJL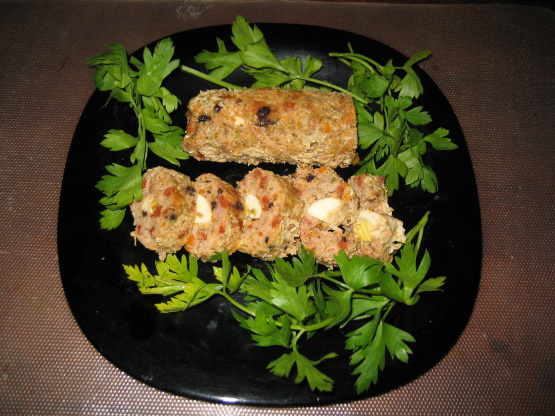 This is my Mom's version of Embutido. It's a Filipino meatloaf. You can cook ahead of time and freeze for serving later. If freezing for later, defrost when ready and glaze with soy sauce for coloring. Then slice to fry or bake entire loaf to reheat and brown. Enjoy!

Brilliant!! I served it in my daughter's baby shower, it was very popular with all guests
Mix all ingredients in a large bowl EXCEPT for hard boiled eggs and vienna sausages, if using.
Divide mixture into 4 portions.
Spread each mixture on a piece of aluminum foil.
Arrange hard boiled eggs (and sliced vienna sausages) in a line along the middle on top of the meat mixture.
Shape and roll mixture into a cyliner.
Wrap tightly in foil. This will make 4 rolls.
Bake for 1 hour at 350 degrees.
Slice and serve.