Pork -Cuban Sandwich- Without the Bread!!
loof751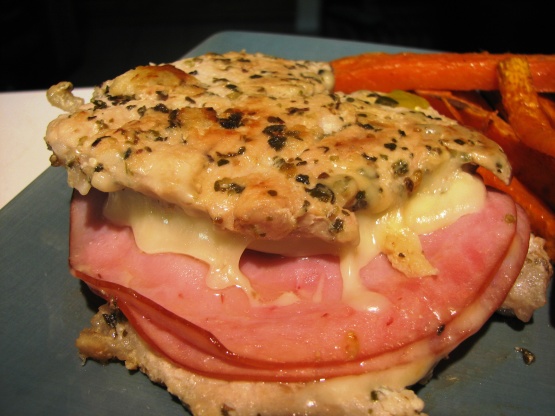 This is a great meal for anyone on a low carb diet. This is a cuban sandwich without the bread!! I use boneless pork chops, but you can use pork tenderloin cut into medallions too!

This is a very unique and tasty dish. Definitely for garlic lovers only! I really liked the marinade and it paired well with the taste of the pickles and swiss. I marinated for about 3 hours and pan-fried the "sandwiches", although I think grilling would be great too. Thanks for sharing this recipe! Made for Fall PAC 2008
Butterfly the pork pieces and pound to 1/4 inch thin. (Do this between plastic wrap to keep splatter down).
Mix Marinade (oil, vinegar, oregano, garlic and salt). The longer you can marinade the meat the better!
Take pork out and open it wide. Layer Ham, Swiss Cheese and pickles. Close the pork 'sandwich'.
Now you can either grill this or pan fry. I suggest grilled over charcoal!
Enjoy! Serve with green chili refried beans for a delish meal!