Pork Chops With Cabbage and Apples
Derf2440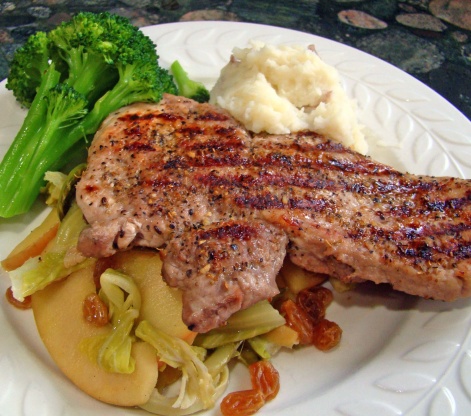 I found this recipe in a book from Hearts and Tummies Cookbook Co. called "Adaptable Apple." It can almost be a one-dish meal, and the flavors all go well together. My suggestion is to first season the pork chops however you like. The first time I made this I forgot to do that.

This was good but we found that the apples were not cooked enough for our tastes. We did like the flavours which did compliment the pork chops. I used boneless and pounded seasoning into them before cooking them on the grill. Thanks for posting; the combination of veggies/fruit did go well with the pork.
Trim excess fat from chops and place on unheated broiler pan rack. Broil 5 inches from heat 20 to 25 minutes or until no longer pink, turning once.
In a large saucepan, bring water to boil. Add cabbage and cook uncovered for 3 minutes or until almost tender. Drain, return to saucepan.
In a small mixing bowl gradually combine vinegar and mustard. Stir in sugar, salt, caraway seed and a dash of pepper. Add apples and raisins, toss to coat. Add to cabbage, toss to mix. Cover and cook 2 to 3 minutes or until apples are crisp-tender and mixture is heated through.
Serve chops over cabbage and apple mixture.