Pork Chops W/Rice and Mushroom Soup
Annacia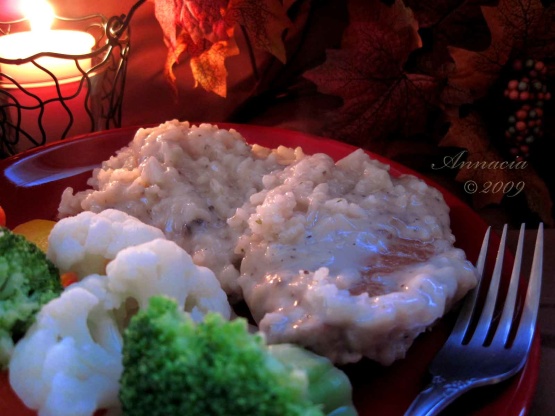 This is an easy, fast and kid friendly recipe. Serve with veggies and/or a salad

I wasn't sure what you meant by parboiled rice. I figured it was boil-in-bag rice but the directions call for it to stay in bag so I decided to use long-grain rice. I used 1 cup rice and about 2 and 1/4 cups chicken broth added to the canned soup. I cooked it about 20 minutes covered, then added the chops and cooked 10 more minutes covered. My chops were thin but some of the meat near the bone wasn't quite done.....maybe I didn't brown them long enough. Next time I might put the pork chops in there when I start the rice. Thanks for posting. Made for 123HITS cooking tag game.
sprinkle some salt and pepper on the chops.
brown in large pan or skillet.
remove chops from skillet.
add can of mushroom soup to skillet and mix in the chicken broth.
once well mixed add the rice and cook covered on low heat for approx 20 min or until all liquid is absorbed with the rice.
add the pork chops back in with the rice half way through cooking. You should estimate the length of cooking by the thickness of the pork chops. Generall I find that pork chops do not take so long and will become dry if overcooked.