nitko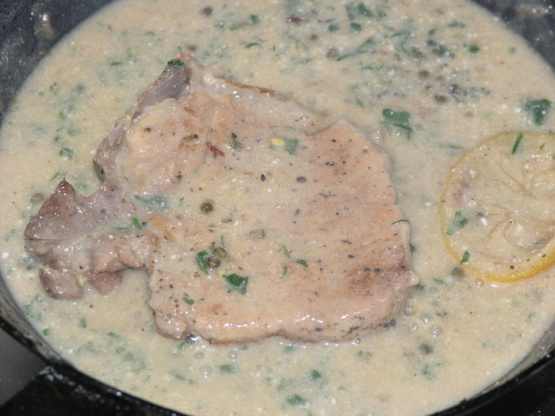 This is one of my favourite pork chops recipe.

Fast and delicious. As others, I added a few mushrooms and a couple tbs of diced onion but I'm sure it would be delicious without.
Put few drops of Worcestershire sauce on each side of chops and gently rub it in meat with hand.
Season with salt and pepper.
Roll it in flour and fry it on olive oil (not too much oil) until it gets brown.
Add wine and green peppercorn and cook it until wine evaporates to half.
Than add lemon and hot meat stock and cook covered for 30 more minutes (if it's too liquid, add some flour).
5 minutes before you decide it is done, put one teaspoon of mustard, stir it and let it boil; lower the heat.
Add sour cream and parsley leaves.
I prefer to eat it with rice and green pea, but it's OK with mashed potato or something like it.