Az B8990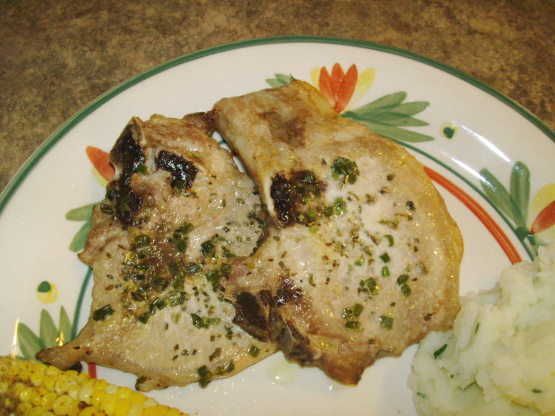 This is very simple easy, and you most likely will have all these ingredients in your kitchen. It gives a lot of flavor to the chops. The recipe is what you would put on one chop. Its very simple to double (which I do). My husband smelled it cooking, and said it made his mouth water. Be careful not to overcook the chops, as it will make them taste very dry. I left them in the oven (with the oven off) to keep warm, and they still got a little dry.

Top Review by mkh206
Very easy and takes about 30 seconds to pull together. I took note of those who said there wasn't a lot of flavor. I pulled the ingredients together, threw them into a Ziplock, and allowed the chops to marinate for 30 minutes before throwing them on the grill.They had plenty of flavor and the whole family said they would definitely eat them again. You can't beat yummy AND easy!
Preheat oven to 350 Sprinkle each ingredient onto the chop.
Drizzle 1 tsp of the oil on top of the chop, and rub it in with the back of a spoon or your finger.
Turn the chop over, and repeat on the other side.
Bake at 350 for 20 minutes (could be more or less- it all depends on the size of your chops).
Enjoy!