Poppy Seed and Green Onion Noodles
teresas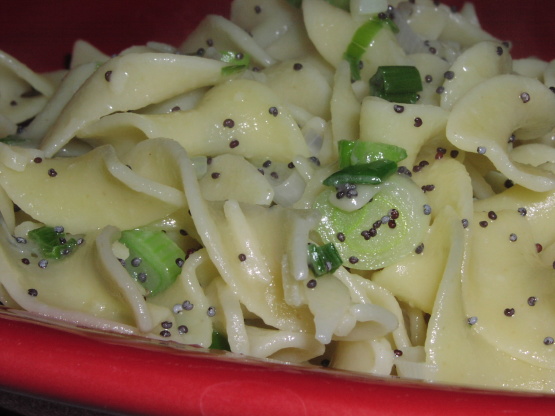 This goes well with any number of entrees. From Bon Appetit.

I've tried this exactly to the recipe, and found it a pleasant if somewhat mild side dish. It went with some steaks and mashed potatoes for dinner. The second time I tried the recipe, I sauteed some mushrooms to add and slightly roasted the poppy seeds. In my opinion, the mushrooms give the dish a meatier, somewhat fuller taste, and I much prefer it with them. I served it along with my own recipe for garlic chicken. Either way, a good choice for a side or a snack when you want something quick and simple.
Cook noodles in medium saucepan of boiling slated water until al dente.
Drain well, reserving 4 tablespoons cooking liquid.
Melt butter in same saucepan over medium heat.
Add noodles, green onions and poppy seeds.
Toss until pasta is well coated, adding reserved cooking liquid by tablespoonfuls to moisten if noodles seem dry.
Season to taste with salt and pepper and serve.