JustJanS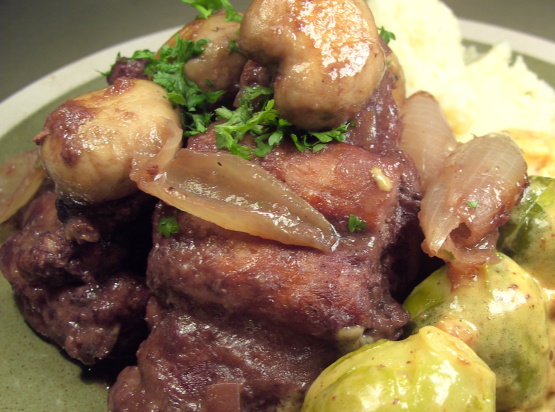 I love rabbit - properly cooked, it is a wonderful full-flavored not overly rich meat. Received in email from gourmet-recipes-from-around-the-world. Thanks deranged_millionaire! Saving this one for cold weather this winter.

I'm always on the lookout for good rabbit recipes and this one was a great find. I had to make a couple of minor alterations as my rabbit came with no liver and I cant get pearl onions. I bought 3 small onions, blanched them for about 10 minutes, then peeled and quartered and proceeded with the recipe as in step 3. I was initially concerned that the sauce would be too tart and not flavourful enough with the few ingredients, but I needn't have worried-it was mellow and delicious and perfect over mash on a cold night. Thanks for posting Buster's Friend.
1

rabbit, cut in 6 pieces, with liver (large)

118.29

ml flour
salt, to taste
fresh ground black pepper, to taste

59.16

ml olive oil

1

large onion, finely chopped

2

garlic cloves, minced

473.18

ml red wine

1

bouquet garni (bay leaf, savory, and thyme, wrapped in cheesecloth)

354.88

ml veal stock (brown)

236.59

ml white pearl onion

473.18

ml mushrooms, cleaned whole
Dredge rabbit pieces, including liver, in flour, then shake to remove all but a light dusting. Salt and pepper each piece. Heat 2 tablespoons of the oil in a large saucepan over medium heat and brown rabbit on all sides until golden. Remove from pan and set aside.
In same pan, heat 1 tablespoons of the oil and sauté onions and garlic over medium heat until tender. Add 1/2 cup of the wine to pan and raise heat. Cook until most of the wine has evaporated, stirring constantly to loosen any browned bits on the bottom. Add remaining 1 1/2 cups wine, bouquet garni, and veal stock. Cook for 5 minutes. Return rabbit to pan, cover, lower heat, and slowly simmer for 1 1/2–1 3/4 hours or until rabbit is very tender.
Meanwhile, blanch pearl onions in a pot of boiling water for 1 minute. Drain and peel by cutting off root ends and squeezing onions out of skin. Sauté whole mushrooms and pearl onions over medium heat in remaining 1 tablespoons oil until golden, about 15 minutes. Season to taste with salt and pepper.
When rabbit is cooked, remove from pan, cover, and keep warm. Discard bouquet garni, mash the liver in pan, then strain the sauce, pushing as many of the solids as possible through the strainer. Return sauce to pan, add rabbit, mushrooms, and onions. Simmer for 5 minutes to heat through, then serve.