Pollo En Escabeche - Uruguayan Marinated Chicken
Pneuma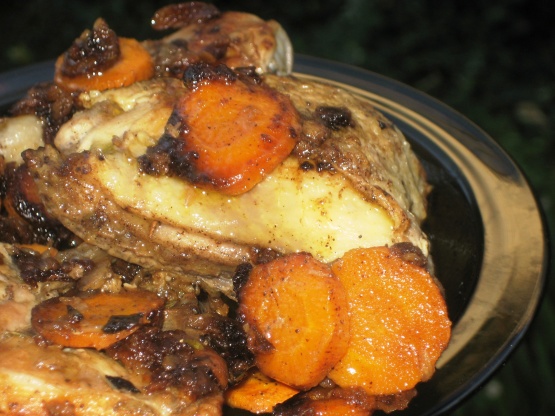 Here is an authentic Uruguayan recipe for marinated chicken. It is simple to make & absolutely delicious. This recipe uses 2 whole chickens - approx weighing 3lbs each - you can use 6lbs of chicken pieces if you prefere. In the recipe I have stated apple vinegar but you can use your own preference. Time to make doesn't include the cooling & chilling time. Posted for ZWT 4.

this was really different from any way i've ever had chicken but still very good. my boyfriend said it tastes like a pickled egg, which is a compliment because he loves anything pickled!! the carrots were very yummy but the onions!! wow, those were tasty! made & reviewed for zwt4 - south america.
Brown the chicken in the 2 tablespoons olive oil in a heavy skillet over high heat.
Place the chicken pieces in a large saucepan or casserole and add the carrots, onions, garlic and spices.
Add the vinegar and oil and simmer over low heat for 45 minutes to 1 hour, until the chicken is done.
Remove from the heat and allow to come to room temperature. Chill well in the refrigerator - at least 5 hours but best overnight - and serve cold.