Polish Easter Bread - Bobka
jen-mn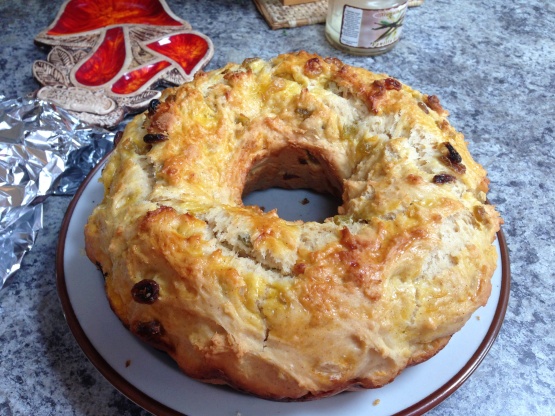 We attended a Russian Orthodox Church while living in Boston and I collected many great recipes over these years. My friend Athanasia gave me this recipe which was her mother's in Poland. This was always a favorite with my children! I wish I had some great pictures to post of some of these special, beautiful Easter dishes. Watch for more...

Oh, very tasty! I followed the recipe very closely, just found that I need about 1 cup more flour...maybe because I mixed by hand, not by mixer. It didn't look like it was going to work; it didn't rise like a typical white loaf; I suppose because it is denser. But it finished up nicely in the oven and is very tasty! I used standard loaf pans for two small to moderate size loaves. A definite keeper! Edited to say on Easter, my daughter had "paska" bread (easter bread) at her Slovak grandmother's house and her Polish boyfriend's house--and she rated the one I made from this recipe as the BEST one she had all day. :)
Measure 2 cups flour onto piece of waxed paper.
Combine other 2 cups flour, yeast, sugar, salt and cinnamon in mixing bowl and mix well.
Melt butter and add lukewarm milk.
Gradually add dry ingredients and beat at low speed, scraping sides of bowl, 2 minutes.
Add 4 egg yolks and 1 more cup of flour.
Beat at medium speed 2 minutes or until think and elastic.
Gradually stir in last cup of flour with wooden spoon, making a soft dough.
Cover and let rise until double.
Stir in raisins and lemon rind.
Put in a well greased 3 quart fluted tube pan or heavy Bundt pan.
Beat 5th egg yolk with 2 tablespoons water and brush top of dough with this mix.
Sprinkle almonds over the top and let rise for one hour uncovered.
Preheat oven to 350 degrees and bake for 30-40 minutes. Turn out of pan and cool on rack.