mich76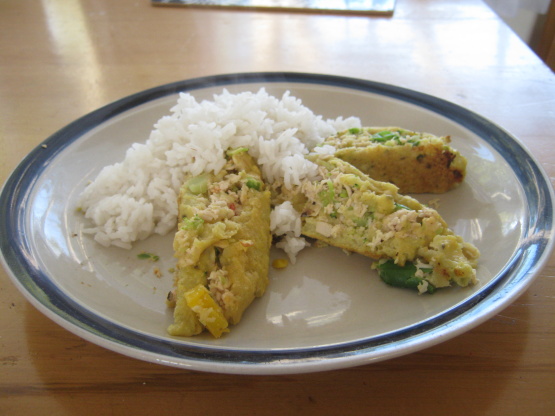 This dish is from Puerto Rico and is very tasty using the plantains. Plantains are similar to bananas but are much larger and have a green skin.

we love this, tho not sure where i 1st learned of it! i added the black beans, chopped green olives, capers, fresh mushrooms, tons of oregano, goya sazon, sazon completa, cumin, granulated garlic, and a dash of tabasco. i used barely 1 tbsp of oil to saute everything in the pan, shredding the chicken as it cooked, adding a bit of water as needed. something i have discovered, as i HATE trying to make the rolls- i have no talent, they always fall apart!- take a normal size muffin pan, pam it, then put a tbsp or so of plantain mixture in bottom of each, squish it down, then put the meat/veggie mix, squishing it down also. then put another tbsp or so of plantain on the top, flattening it out a bit. bake them for 15-20 min and voila, a heck of a lot less work, and everyone gets plantain and meat, not just one or the other! anyhoo- great recipe, love this stuff! thanks!
Peel plantain and cut in half lengthwise.
Remove vein and discard.
In a large saucepan, add cut plantains; cover with water and bring to boil.
Add salt, cover and continue to cook for about 3 minutes or until done.
To test for doneness, insert a fork into the plantain and it should penetrate easily.
Remove plantain into a large mixing bowl.
Mash plantain.
Add egg and mix thoroughly until well blended.
Preheat oven to 350 degrees F.
Prepare a cookie sheet by lining with 2 pieces of parchment paper.
Spread the plantain mixture over the entire area of the cookie sheet until about 1/4 inch thick; set aside.
In a large frying pan add chicken, sprinkle with salt and pepper.
Add bay leaf, butter and water and bring to boil.
Reduce heat to medium; cover, but leave a slight opening for steam to escape.
Cook for 5 minutes.
Add onion and continue to cook for another 10 to 12 minutes or until chicken is cooked through.
Add additional water if required while cooking, (DO NOT LET DRY.).
When chicken is done, remove and let cool for a few minutes in order to handle.
Shred chicken into a mixing bowl.
Remove bay leaf and discard.
Remove onions from frying pan with a slotted spoon and add to the chicken.
Make sure the onions are quite dry when adding to the shredded chicken.
Add mixed vegetables and mix well to blend.
Spoon mixture over the prepared plantain leaving about 3 inches from each end and 2 inches from the sides.
Begin rolling plantain over vegetables, using the parchment paper to assist.
Remove parchment paper as you are rolling.
Leave rolled plantain on the cookie sheet.
Bake in preheated 350 degrees F oven for 6 to 8 minutes or until golden brown.
Remove from oven and let sit for 5 minutes to rest.
Cut into 1 inch slices and serve.
Serve with cooked rice or with a salad.