awalde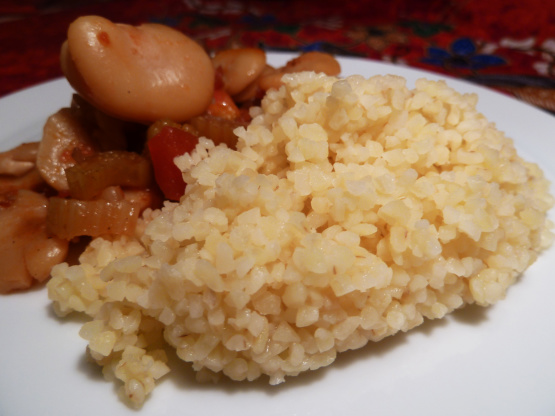 Bulgur is a light whole wheat grain that is a good substitute for rice. It can be cooked or soaked. *I prefer cooked but am posting direction to both here. Have a friend that is new to whole grain cooking and has asked if I would post some basic cooking directions.

Many times, with recipes like this I have a difficult time deciding which to prepare, so . . . I did 'em both ~ Cooked half a batch & soaked half a batch! We, too, much preferred the cooked bulgur, but still, the soaked version was very acceptable, & both do make for a nice change from the often-served rice! Thanks for sharing it! [Recipenapped & made in the Vegetarian/Vegan Recipe Swap 22]
*Cooked: Add bulgur to water bring to boil, reduce heat, cover and simmer 15 to 20 minutes till liquid is absorbed, fluff with fork.
Soaked: place bulgur and boiling water in bowl. Cover and let sit for 10 minutes. Fluff with fork.