LinaLove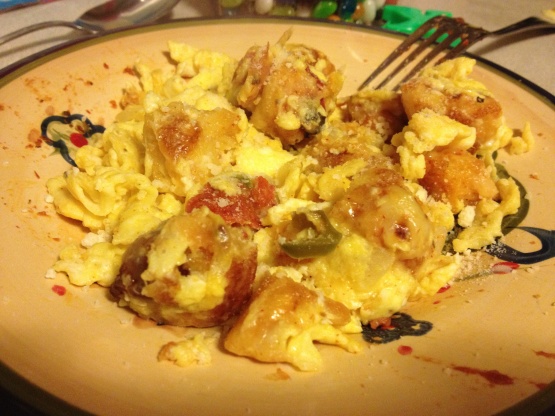 Don't be scared! These are actually pretty darn good. I wish I could take the credit, but this is something my dear old dad came up with. DH and I refused to even THINK about trying them for years, but once we did...we wondered what took us so long!

I have not tried this recipe with pizza yet, but it is soo yummy with just heating up the spaghetti, then add the eggs and make it into a sort of quiche, instead of scrambling it.
2

slices leftover cold frozen pizza

8 -10

eggs
Cut the pizza into small, bite-size pieces.
Break and scramble the eggs into a large bowl, beating well.
Add the pizza bits, stirring to make sure all the pizza is covered.
Let sit for 10-15 minutes.
After sitting, stir again and scramble in a large frying pan that has been sprayed with Pam.
Top with Parmesan or mozzarella cheese.
This also works well with a leftover spaghetti, too.