Pinto Beans and Prunes (Vegan)
pammyowl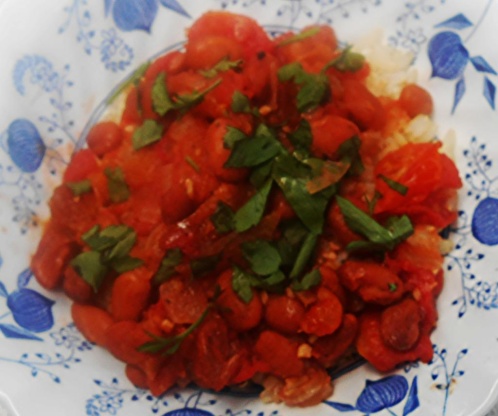 Here's a quick and easy Mediterranean-inspired dish. Pink beans, cannellini or Great Northern beans can replace the pinto beans if you prefer. Turkish apricots, dates, raisins/currants can sub for prunes, too. From the cookbook 'Bean Banquet: from Boston to Bombay. Serve over pasta, brown rice, coucous, quinoa, etc accompanied by steamed vegetable of choice (we served the beans over whole wheat couscous with a side of freshly steamed green beans) or you may prefer a simple tossed green salad. Non-vegans may enjoy the bean mixture topped with a garnish of crumbled feta...

I used dried apricots, I thought I had prunes, but sadly, no. I served it over brown rice, possibly my favorite food in the world! Also, I cut the vinegar back to 1 Tbsp. I am not a huge fan of savory dishes with sweet spices, so I skipped the cinnamon and cloves, but did use the nutmeg. Loved it, thanks for sharing! Made for Ramadan 2013
Cook the dried beans *reserving* some of the liquid.
Heat olive oil in a large skillet or saucepan.
Lightly brown the onions and garlic for a few minutes.
Add all the ingredients except for the beans and simmer for about 15-20 minutes or until onions and prunes are soft.
Add the drained beans (and a little bean broth to thin the sauce if necessary.) Heat through for a few minutes.