Parsley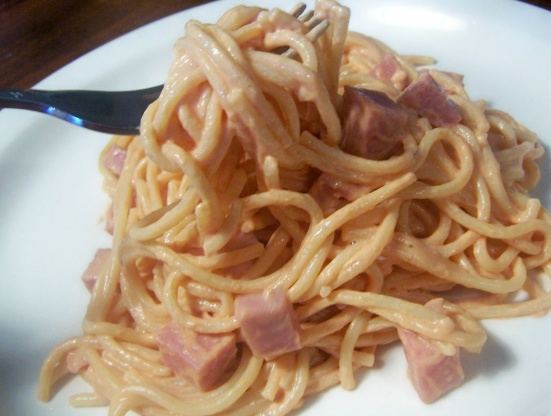 Named by my kids because the cream cheese turns the tomato sauce kind of pink. This is a very simple but very yummy dish, especially for kids. I recommend that you make this at least once just the way it is and try it before you add any kind of spices. It's the simplicity that makes this recipe good. I have tried adding oregano and other spices, but I still like the original better. I see it like macaroni and cheese--you can doctor it up in a thousand ways, but in the end, the best is just the macaroni and the cheese.

Top Review by didyb
This had mixed reviews from our table. I thought it was very bland and heavy. My husband added a lot of salt and pepper and really liked it. My daughter said it was good, but had too much cream cheese in it. Perhaps using 1/2 brick of cream cheese and adding a tsp of italian spice would help. Since 3 of the family liked it, I will be making it again.. but with adjustments. Thanks for a starting point.
Cook spaghetti according to package directions.
In blender add tomato sauce, cream cheese, garlic, and bouillon.
Blend until cream cheese is smooth.
Pour spaghetti into a strainer and return pasta pan to stove on medium heat.
Pour sauce into pan and let cook for about 5 minutes; add in the ham.
Add the spaghetti back to pan and mix everything together.