Pink Cookies - Meringue Jello Cookies
chlohan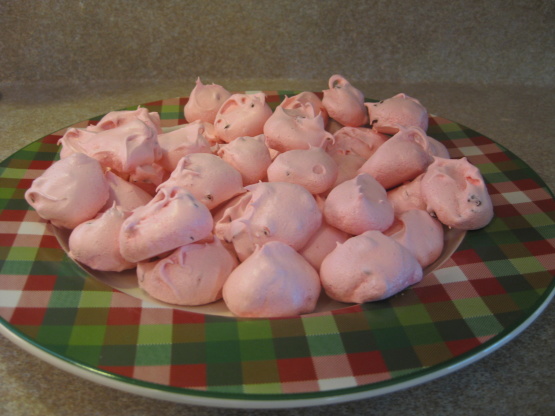 This recipe has been in my In-law's family for a very long time. Every holiday they are made for parties. They are the first cookie that is gone!!! This is a low calorie cookie - that even for Weight Watchers (WW) they are about 1 point for 2 smallish cookies!!!
Carefully seperate egg whites from yolks - ANY yolk left in the egg whites and you will not be able to make the meringue!
In a clean dry bowl whip egg whites, white vinegar and salt until stiff (but not dry!).
Add in sugar and jello powder (Traditionally we use Red Jello - such as raspberry or Cherry -- ).
Fold in chocolate chips
On buttered cookie sheet, drop spoonfuls of meringue - I do smaller, bite sized cookies.
Bake on a buttered cookie sheet for 30 minutes at 250* then turn off the oven and let them sit there over night.
Do not peek or open the oven! They will turn out soft and chewy!
Preparation time is to make the meringue - Cooking time is total time to make!