Olive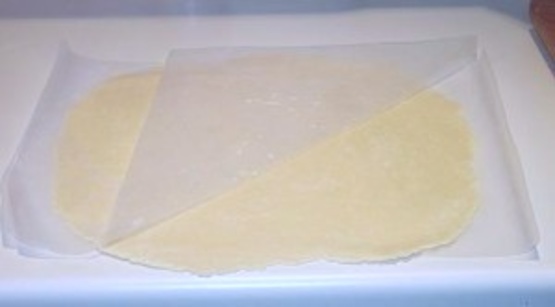 I have been making this pie crust for 30 years. Using the wax paper to roll the crust out makes a perfect pie crust every time. I found it in a local church recipe book. It is flakey and very tasty!

I have to admit that I was a little skeptical of the vinegar, especially because I could smell it faintly as it was cooking, but this crust turned out beautifully. I have only used it for pot pies, but only because homemade pot pie is a staple in our house in the winter. I was especially happy that I didn't have to let it rest for 30-60 minutes, which makes it much easier to throw dinner together quickly. Ihave already used his crust 4 times. I love it, and it is now the only crust I will make. Very happy. Thank you thank you thank you thank you thank you!
In a mixing bowl, combine the flour, salt and Crisco. Cut Crisco into the flour with a pastry blender or a fork until mixture is crumbly.
In a small dish, add yolk, vinegar, & water; blend well with a fork. Add liquid to flour mixture and blend well with a fork until dough is thoroughly incorporated then use your hands to work it together to form a ball. Divide the dough in half to make 2 balls.
Place one ball of dough between 2 sheets of waxed paper and roll it out with a rolling pin; rolling it a little larger than the size of your pie pan. Remove top piece of waxed paper and then gently flip over the dough onto your pie pan. Remove waxed paper and gently shape the dough into the pie pan. Trim excess dough off. Repeat with second half of dough. Bake according to pie recipes.
Note: You can get 3 pie crusts out of this depending on how thin you roll your crust out. I personally like a thicker crust. And -- If there are any scraps of crust left over, you can roll it out and put them on a cookie sheet; sprinkle with sugar and bake untill golden. A very tasty treat.