Prep 10 mins
Cook 11 mins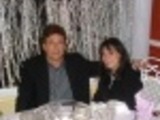 I am always looking for recipes that my boyfriend, Bill, can take to work for his lunch. I like to make sure they include both some protein and carbs, since he does heavy physical labor and needs to be appropriately refueled. I came up with this recipe, which met those requirements, and it tastes great, too! It's simple, quick, and travels well.
Directions
Cook pasta according to package directions.
While pasta cooks, mix tuna, pesto, pepper, mayonnaise, cheese, olives, and lemon juice in a large bowl.
When pasta is cooked, drain and rinse with cold water.
Add pasta to tuna mixture and mix well.
Refrigerate at least 30 minutes before serving.
Most Helpful
This makes a quick, easy, and tasty lunch. I didn't have rotini, but used small shells instead. Also omiited the olives as I don't care for them. Thanks for posting Jackie!

I made this for lunch today and enjoyed it immensely. My BF also thought it was tasty. The mayo and pesto blended together very well. I only used a small can of olives as I thought 8 oz would be overkill. Thanks for sharing:)
I made it for lunch and we didn't wait the 30 minutes requested. It was still good. I'm sure it's even tastier now. That recipes gives a lot. I can say more than 4 servings (for us). So it's going to be perfect for our lunches. Thanks Jackie. Made for 123 hit wonders