ImPat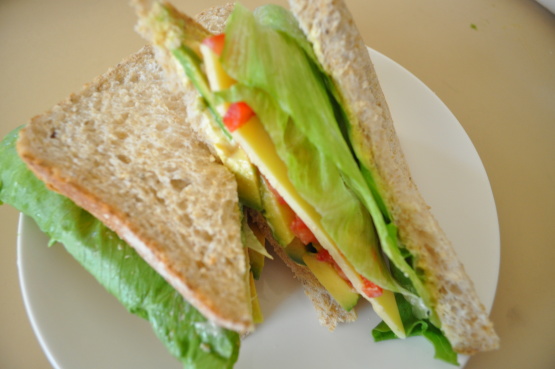 This is a very nutritious, crisp/crunchy cool spring or summer sandwich. Use Vegan Mayo to make this a vegan dish.

Top Review by ImPat
Fantastic sandwich, I doubled and made one for the DM and myself. I used a chia thick sliced wholemeal but had to omit the onion (I had forgotten to buy with the avocado) and as we don't get monterey cheese here I used slices of vintage cheddar and a whole egg mayo and iceberg lettuce. Thank you sunriverose, made for Bargain Basement.
Lay out bread slices or split roll.
Spread both sides with mayonnaise to taste.
On left side, place avocado slices, and "smash" them to make a smooth layer of avocado.
Place tomato slices over avocado.
Place cheese on tomato slices.
Place red pepper rings next, and cover with red onion rings.
Next, add the sprouts if desired.
Top this with lettuce, then cover with top bread slice or roll top.
Note: I don't recommend cucumber on this sandwich.