Perfect Hard Boiled Eggs (Technique)
Boomette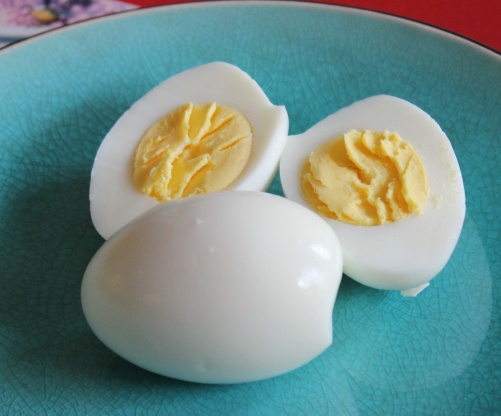 No fail! Never undercook or overcook your eggs again. I came across this method in my search to avoid the ugly green cast that yolks take on when overcooked. Add on a couple minutes to soak time if you use Jumbo eggs.

I always used this method after seeing it on Emeril. He said "remember LUCKY 13". 2 minutes of boiling, then 11 minutes sitting in covered pot. Then immediate to ice cold water, which shrinks the egg away from its outer peel, making it easier to peel them flawlessly.
Put eggs in large pot.
Cover with water so that there is at least an inch of water above the eggs.
Add a pinch of salt.
Turn on heat (med high) and heat, uncovered, to a boil.
If you have more than a single layer of eggs, you may want to stir them occasionally (gently!) while they heat.
Once the water comes to a boil, watch your clock and let it boil for 2 minutes.
Remove pot from the heat and cover with lid.
Let sit, covered, for 11 minutes.
Drain and cool eggs for 2 minutes in ice water.