BarbryT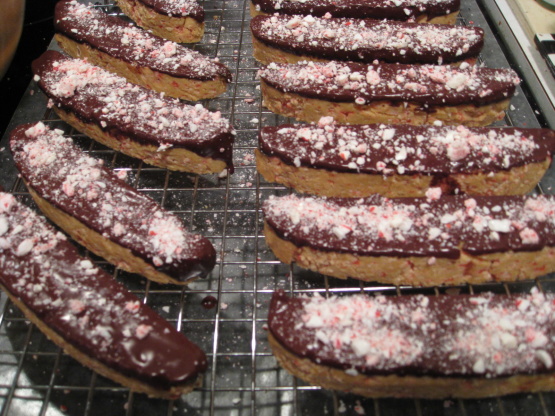 My friend Jess gave me this recipe :) I added the chocolate and increased the flour since the dough wasn't quite the right consistency. This is my favorite new additions to my Christmas cookie tray this year.

YUMMY! This is the perfect sweet treat for Christmas. I know my guests are going to love these.
Preheat oven to 350 degrees. Line a baking sheet with parchment paper.
In a large mixing bowl, cream butter and sugar together. Add eggs one at a time beating well after each addition. Beat in extract.
Separately mix flour, baking powder and salt. Stir in 1 cup of peppermint candy.
Gradually add flour and candy mixture to creamed mixture beating well until well blended. Dough will be stiff.
Divide dough in half. Shape each half into a rectangle 12 x 3 inches. Carefully transfer each to baking sheet.
Bake for 25 to 30 minutes. Carefully remove and place on a wire rack to cool slightly, until cool to the touch but not cooled all the way through. On a cutting board cut each rectangle into 1/2 inch cookies.
Place the cookies back onto the baking sheet (touching is okay) and bake for an additional 12 to 15 minutes or until firm. Let cool completely on wire rack.
Melt chocolate candy coating according to package directions and dip one side of the biscotti into the chocolate and sprinkle with some of the remaining peppermint candy. Place on waxed paper until chocolate coating sets.