Penne With Cannellini Beans
Kree6528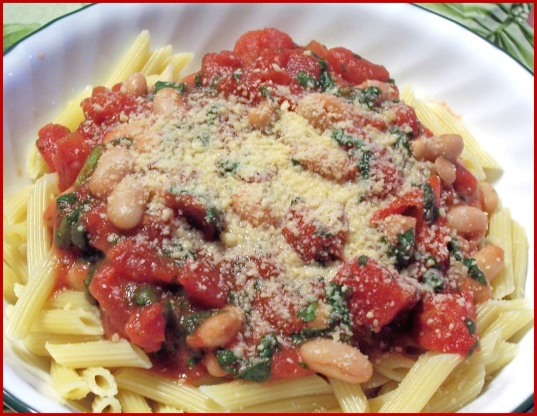 This is a quick, 5 ingredient recipe. It comes from Light and Tasty. You should definitely be using the Italian-style diced tomatoes that come already seasoned with herbs for flavor. If you use plain diced tomatoes, just add some herbs to your liking when putting this recipe together.

I googled cannelini bean recipe and this is one of the ones that popped up. You see, I'm on a very tight budget right now and really don't have much; cannelini beans, pasta, diced tomatoes and Spinach is what I did have, yay! It worked out splendidly except I added Italian seasoning since I had plain diced tomatoes as well as powdered garlic and forgot about the spinach and added it in later. I don't have Romano cheese so at first I used mozzarella, for leftovers I used a mixture of cheeses. It was really good, simple and very affordable.
For those who say it didn't taste that great, sure it was a bit plain and if I had been thinking more I would've added some garlic and I'm sure onion would be awesome in it too or mushrooms for that matter, but even as simple as I made it was great, and healthy.
Cook pasta according to package directions.
In large saucepan, combine the tomatoes and beans, and bring to a boil.
Reduce heat and simmer uncovered for 10 minutes.
Add spinach, cook and stir for 2 minutes, or until spinach is wilted.
Drain pasta, top with the tomato mixture. Sprinkle with cheese.