Penne Pasta With Mushroom Clam Sauce and Cheeses
Parsley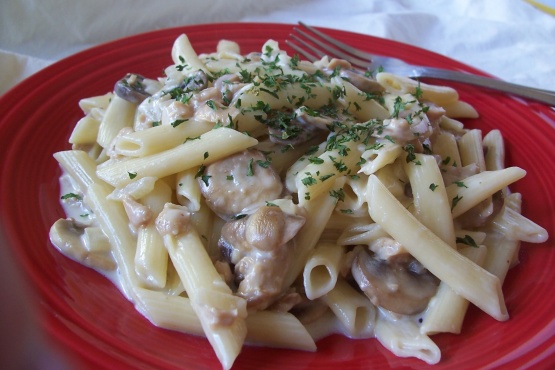 Big name for a recipe, but it's sure a good one.

My family really enjoyed this recipe. I added a full cup of marsala wine instead of half for more wine flavour. When served on the plate, we added parmasean cheese and ground pepper. I sent a big bowl over to my neighbour as well. :) Thanks for posting!
Melt butter in a 12-inch skillet.
Add olive oil, onions, mushrooms and sauté until tender.
Add 1/2 tsp garlic powder and the wine.
Bring to a boil, reduce heat, add clams and cook until thickened.
Cook pasta and drain.
In a double boiler mix cream, 1/2 tsp garlic powder and the cheeses. Stir until melted.
Keep warm.
In a large bowl, mix together pasta, cheese mixture, clam mixture and parsley.
Serve immediately.