Penne Al Funghi Porcini (Pierce Brosnan's Fave)
Prep 15 mins
Cook 20 mins

This is a recipe from Pierce Brosnan's favorite Santa Monica restaurant, Il Ristorante di Giorgio Baldi, and said to be one of his favorite dishes.
Directions
Heat the oil in a large skillet over medium-high heat, and sauté the sliced porcini mushrooms with the garlic and parsley till tender, about 5 minutes. Season with salt and pepper.
Add the wine and let it all simmer until the wine evaporates, about 5-8 minutes. Add the tomatoes(If you have used reconstituted porcini mushrooms, add the reserved soaking liquid now) and cook for 5 to 7 minutes.
Meanwhile, boil the penne until al dente. Drain the pasta and add it to the sauce together with the grated cheese. Let cook for 2 minutes at low heat. Taste for seasoning.
Serve piping hot. Pass extra cheese for sprinkling. Enjoy!
Reviews
Most Helpful
Wow! This was sooo delicious!
I used frozen Porcini and fresh Roma tomatoes. I didn't imagine that this would be such a big hit!
I exchanged the penne with pasta fresca (Linda's Spinach Pasta Fresca) and everything was a dream together!
The recipe is perfect! Thanks a lot for posting this recipe!

Wonderful dish! I used fresh porcini mushrooms and might add the thyme next time, but I wanted to enjoy just as Pierce does! It is really, really tasty! Made for Please Review My Recipe Tag Game.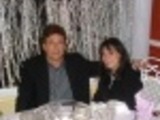 I am a huge Pierce Brosnan fan so I just had to try this. It was great. I can see why it is his favorite.