Pears with Chocolate Sauce and Cracked Black Pepper
Elmotoo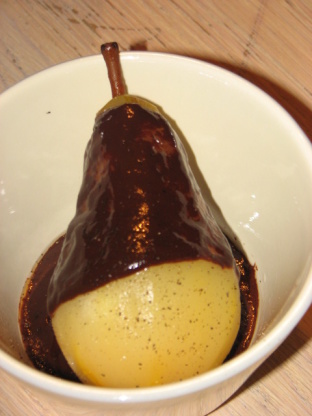 I got this out of a Spanish cooking magazine called "Cocina Facil" while there over Christmas. What an elegant dish to serve guests! And you wouldn't believe how easy it is...

OOOOHHH!!!!! This was soooo good!! I doubled the syrup & pears & had enough chocolate sauce. I also used Belle de Brillet - FANTASTIC pear brandy. The pepper is subtle but fabulous! We absolutely loved ths dessert which was mostly made ahead & perfect for WOWing guests! Made for Port & Pimenton: Tag and Plan a Tapas Party Menu CONTEST.
Place water in a medium sized saucepan, add sugar and bring to a boil (to make the syrup).
Boil 5 minutes, and then add pears.
Boil 10 more minutes (or until tender, but NOT mushy--they should still be firm), gently turning several times.
Allow pears to cool to room temperature in the syrup.
Heat cream, butter and chocolate over medium heat, stirring constantly until chocolate is disolved.
Add a little bit of the syrup from the pears and the liquer and whisk until the sauce has a smooth texture, not too thin.
Place pears in serving bowls or dessert cups, and cover with chocolate sauce.
Sprinkle with just a bit of freshly ground black pepper.