Pear and Butternut Bisque
Parsley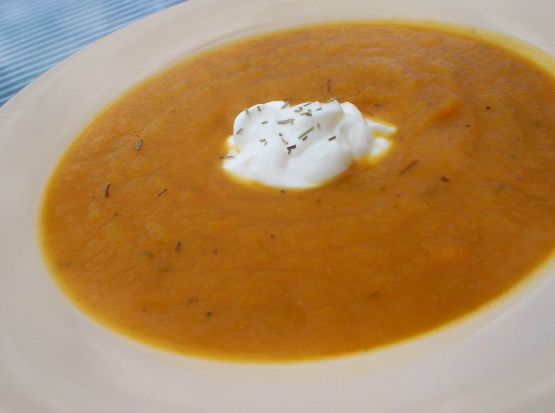 I found this years ago in the local paper. It was adapted from a recipe by Elizabeth Riely. I like to add more cumin than called for.

I used regular chicken broth and omitted the salt, I also used smoked paprika and did not use cumin. Other then that, I followed recipe as listed with very tasty results. DH grabbed the entire pot and brought it to camp with him, so that warrants a 5 star rating!! Thanks for sharing your recipe Mike.
Peel, seed and cube squash. (cut off a slice from top and bottom and stand squash on end to cut down the middle). Set aside.
In a large pan, heat oil over medium heat. Add onion, carrot, garlic and ginger. Saute 5 minutes.
Put squash and remaining ingredients (except pepper and lemon juice) into pan. Bring to a boil, reduce heat, cover and simmer 20 minutes. The vegetables and pears should be very tender.
Let soup cool a bit and puree in batches in a food processor or blender. ( I find a blender gives a smoother puree). Pour soup into a clean pan.
Reheat over medium-low heat, unti very hot. Season with pepper and lemon juice.
Garnish with a dollop of plain nonfat yogurt and a small piece of rosemary.