Peanut Butter S'more Quesadillas
Boomette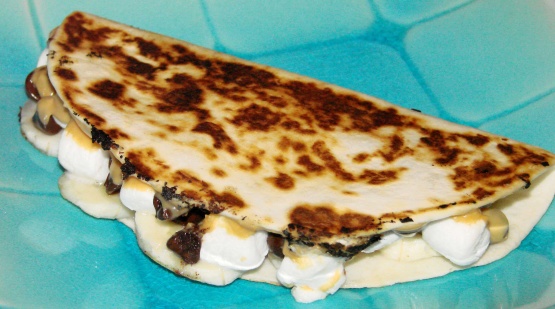 Made these on a camping trip. Sort of messy but the kids loved them. From BHG.

Fabulous! I only had 8" tortillas so just used a little less of everything (truthfully, I didn't actually measure, just used what looked good). The only thing I changed was to use a non-stick skillet on the stove and no oil. It didn't get as golden brown and crispy, but still worked and cut a tiny bit of fat LOL Messy but good - thanks for sharing!
Spread 2-3 tablespoons of peanut butter over half of each tortilla.
Sprinkle marshmallows and chocolate morsels over peanut butter.
Top with banana slices.
Fold tortillas in half; press gently to flatten and seal.
Brush both sides of tortilla with a little bit of oil.
Put a 10-inch cast iron skillet over medium heat on a camp stove, grill rack, or grate over an open fire.
Place one quesadilla into skillet; cook for 2-3 minutes on each side or until golden and chocolate is melting.
Repeat with other quesadilla.
Sprinkle with cinnamon sugar.
Cut into wedges and serve.