Linky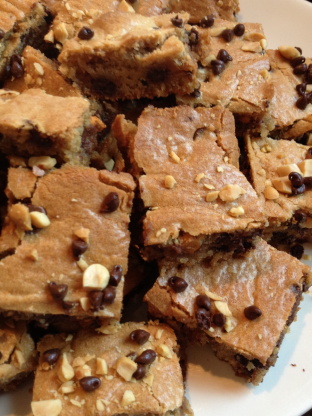 These bars are more cake like in consistency. I took these to work the other day, and they were gobbled up in no time!

Top Review by Linky
Great bars! A whole batch disappeared in short order at a dessert reception last night. Next time, I'll use fewer chocolate chips in the batter and save some to melt and drizzle on top afterwards. I chopped a few peanuts and scattered them on top so people allergic to peanuts would realize they weren't blondies. made for Spring 2013 PAC
Cream together butter, peanut butter, and sugars.
Add eggs, on at a time.
Beat in vanilla.
Combine dry ingredients and gradually add to creamed mixture.
Stir in chocolate chips.
Bake at 350 degrees for 45 minutes in a greased 9x13 inch pan.