Peachy Southern Chicken Salad
PaulaG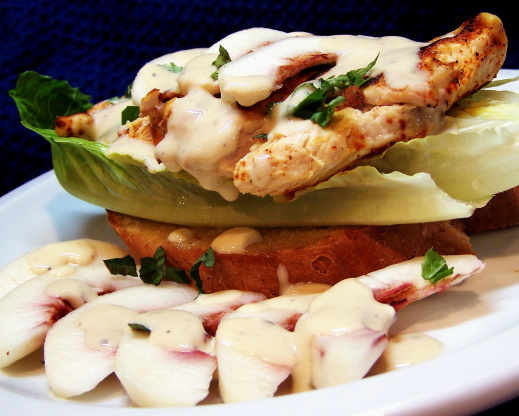 Chicken can be warm or chilled in this salad. This recipe is also a great way to use leftover barbecued chicken. Darlin', the "Southern" part of this dish's name refers to the peaches and chicken, a beloved combination below the Mason-Dixon line, especially when combined with a mustard-creamy dressing. From MSN recipes with my changes.

Okay, I have to say that this was a pain in the patootie to put together. Much more fiddly than I am used to doing for dinner. BUT! It was a very attractive plate, and VERY tasty. All of the flavors melded together really nicely. And of course, my tipoff that this was a Southern recipe? The fact that what amounts to a crouton is slathered in honey butter! :) Delicious, though.
For dressing, in a small bowl whisk together sour cream, vinegar, mustard, garlic, salt, and pepper; set aside.
Remove a few outer leaves from romaine heads.
Reserve removed leaves for another use. Halve romaine heads lengthwise.
Spread each toast slice with honey-butter; place one slice on each of 4 serving plates.
Slice white meat from chicken breast, about ¼ inch thick.
Top bread with a half head of romaine. Arrange chicken slice and peaches on greens.
Sprinkle with mint and basil or marjoram. Drizzle with dressing.