Peach Pie Moonshine a La Mode
gailanng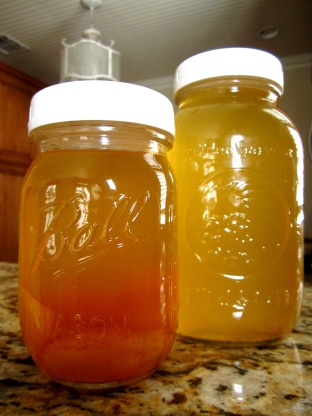 You may need to purchase the frozen, concentrate White Grape & Peach Juice and prepare as advised on the label. Posted on Key Ingredient by Tom P.
Very good recipe. I made a few changes by cooking vanilla bean with the mixture. Also another change was putting a half of a fresh peach in the jar with the finished product it really kicks up the flavor.
1⁄2 gallon welch's white grape & peach juice (64 ounces total or 8 cups ready to serve juice)
1 1⁄2 cups white sugar

1

(15 ounce) cansliced peaches, drained

1

cup peach schnapps, divided

1

cup Everclear alcohol (190 proof)

1

cup vanilla vodka (whipped cream vodka works too)
In large pot put Grape Peach juice, sugar, sliced peaches, cinnamon sticks and 1/2 cup of Schnapps. Bring to boil, reduce heat and let simmer on medium low for 30-45 minutes covered.
Remove from heat and let cool to room temperature.
Add 1 cup of Everclear, 1 cup of vanilla vodka and remaining 1/2 cup of peach Schnapps.
Pour into mason jar with one each of the cinnamon sticks from mixture and one peach from mixture. Note: You may have to strain this through a few layers of cheese cloth a couple of times.
Refrigerate for at least a week to mellow.