Rita1652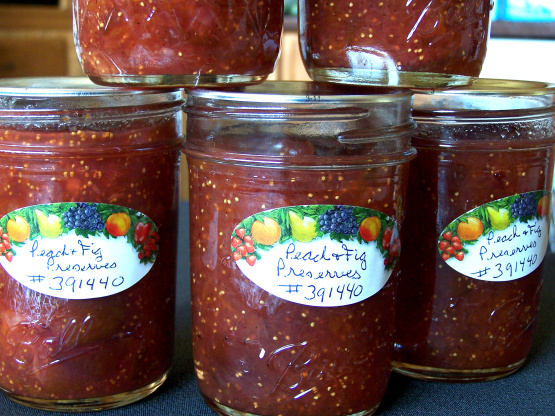 This year my figs were slow to ripen so I made this recipe using peaches and Vanilla Fig Preserves. You can use 1 or all three vanilla, cinnamon, or ginger. I used all three and it was delish.

This is our new favorite preserve/jam recipe! (I used an immersion blender to chop the larger pieces of fruit, so mine was more like a jam than preserves.) The fig and peach flavors are totally kicked up a notch by the addition of the lemon, cinnamon, and ginger (I had no vanilla pod, so I just left it out). I made this twice; the first time was slightly better. I was a bit more heavy handed with the fruit, and the flavor of the first batch was a bit "brighter." I cooked the first batch 16 minutes and the consistency was perfect! The second batch took about 21 minutes to be ready. Great recipe!
Bring enough water to cover peaches to a boil. Put peaches in the boiling water for just 1 minute or under. Take them out with a slotted spoon and place them in cold water. Peel and slice peaches. Discard peach pits.
In a large pot place sugar, vanilla pod and the seeds, figs, peaches, with optional cinnamon or ginger, lemon juice, zest and meat of lemon.
Stir to release juices it will be thick. Simmer over low heat stirring not to burn. Juices will come and when it does raise heat to high stirring most of the time.
Remove vanilla and cinnamon.
With an immersion blender blend fruit till chunky smooth.
Add back the vanilla and cinnamon.
As mixture thicken, you must stir more frequently to ensure that it does not stick to the bottom of the pot.
When it hits a rolling boil for 15 minutes all the time stirring add liquor cook 1 minute.
To test whether the jam is ready, place a cold metal spoon in the mixture and tilt. The jam should form a single stream.
Remove and discard bean and cinnamon.
Pour into sterile jars and process 10 minutes.
Optional for those that like it smoother without chunks you can blend the figs before adding to sugar or use an immersion blender while cooking.