Ms B.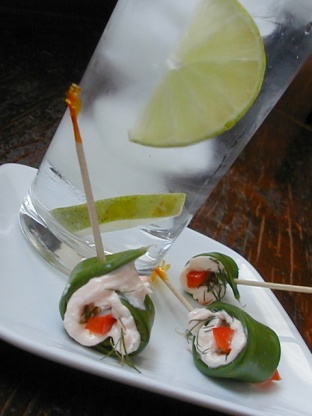 From a Better Crocker Summer Fun Appetizer booklet. The pea pods don't always roll easily, but they do make a pretty and tasty appy for summer parties. I didn't have the pre-packaged salmon cream cheese available and just used my food processor to blend some plain cream cheese with some smoked salmon.

These are good BUT I had a hard time with them. They are a bit labor intensive. First you have to get the snowpeas cooked just right... Undercooked and they break, overcooked and the pea pods split apart as you roll them. And they MUST be dry. That is the most important part. I used the salmon cream cheese and skipped the bell peppers (was trying to use roasted red bell peppers from a jar, but it wasn't working for me, so I left them out). Once I got the hang of things, I set up an assembly line and got things rolling (lol). My guest thought they were just okay. I had quite a few leftover after everyone went home. I liked them, but I probably won't make them again. Thanks.
Heat 3 cups of water to boiling; add pea pods.
Cook uncovered 1 to 2 minutes, or until bright green. Drain.
Immediately rinse with cold water; drain.
Dry with paper towels.
Spread cream cheese over each pea pod.
Sprinkle with dill weed.
Place 1 piece of bell pepper on center of each pea pod; bring ends of pea pod over filling, overlapping in center.
Secure with toothpick.