Paula Deen's Almond Chicken Salad Melt
lazyme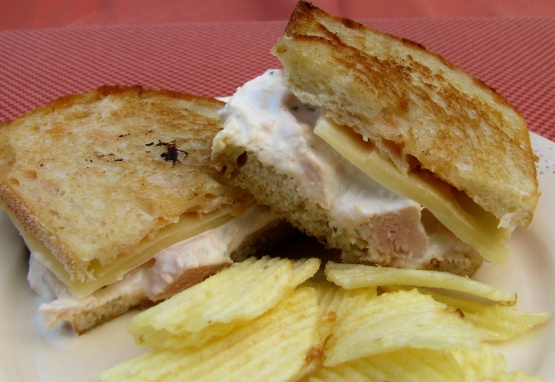 These sandwiches were in this month's newsletter from Paula and they are WONDERFUL!!!!

I love Paula and she can cook for me anytime! I cut the recipe down for 1 sandwich. This chicken salad is heavenly (and messy) lol! I did leave off the thousand Island (never did like it) but followed the rest of the directions. Afraid with this calorie count I won't have another (maybe in a few months). Thanks for sharing Sheribeth. Made for I Recommend Tag Game.
In a medium bowl, combine chicken, mayonnaise, sour cream, almonds, parsley, honey, and salt, tossing gently to combine.
Spread one side of each slice of bread evenly with Thousand Island dressing. Top half of bread slices evenly with chicken salad. Place 2 slices Swiss cheese over chicken. Top with remaining slices of bread.
Spread half of butter on outside of one side of each sandwich. Place sandwiches, buttered side down, onto a griddle or skillet over medium-low heat. Cook 3 to 4 minutes, or until golden.
Spread remaining butter on ungrilled sides of sandwiches, and cook until golden and cheese is melted. Serve immediately.