2Bleu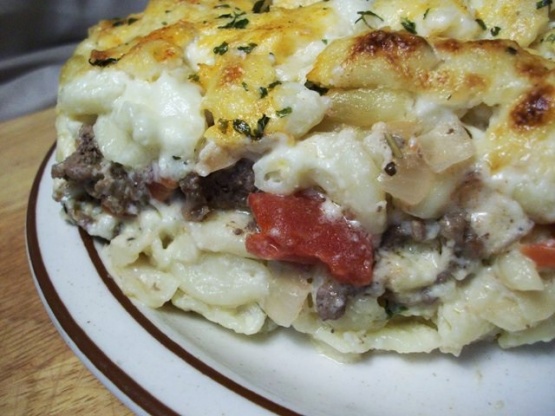 Pastitsio is a traditional Greek dish made with ground beef, pasta, and a thick bechamel (cream) sauce. Here is our version which omits the sweet spices such as nutmeg and cinnamon that traditionally go in this dish.
MEAT LAYER: Preheat oven to 350°F Melt butter in a large skillet over moderate heat. Add onion and garlic and saute' for 2-3 minutes. Add beef and seasonings. When meat is cooked thru, drain off fat, return to pan and add the olives, tomatoes, and white wine. Simmer uncovered about 15 minutes. Set aside to cool.
PASTA: Cook pasta according to package directions. Mix remaining pasta ingredients and place in a large bowl. When pasta is cooked, drain and immediately stir into the large bowl, mixing well.
BECHAMEL SAUCE: In a medium saucepan over moderate heat, melt butter. Add flour, salt, black pepper, and dry ground mustard. Stir for about 1 minute. Slowly wisk in half and half and chicken stock to incorporate. Stir constantly till thickened (about 5 minutes).
Remove from heat. Add a little of the bechamel to the egg to temper it, then wisk egg mixture back into pot and add the parmesan cheese. Stir until well blended.
ASSEMBLY: To a large loaf pan or a deep oven-proof casserole pan (10"), place half the pasta mixture. Pour 1 cup of the bechamel sauce over top. then place meat layer over top of that. Top that with another cup of the bechamel.
Place remaining pasta over that, then the remaining bechamel. Sprinkle with paprika and parsley. Bake for 35-40 minutes. Allow to set for 10 minutes before slicing and serving.