Kittencal's Greek Pastitsio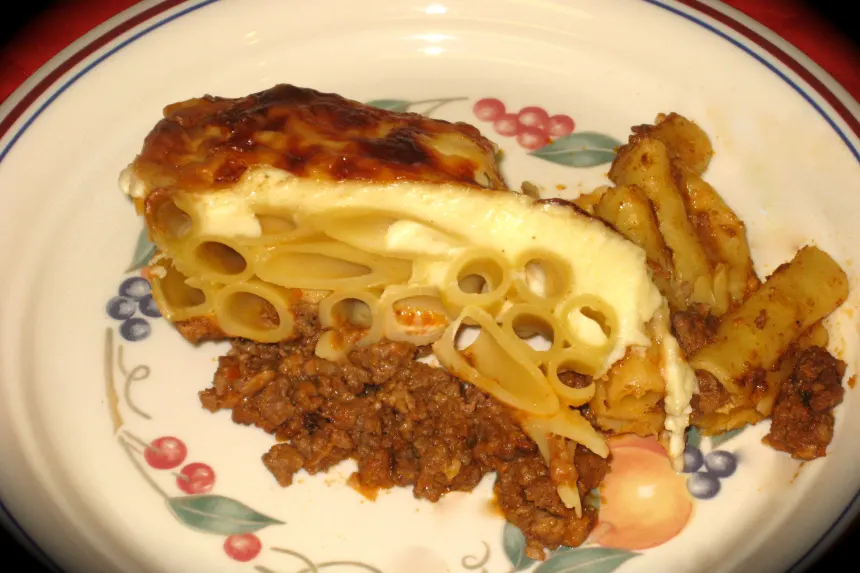 photo by FrenchBunny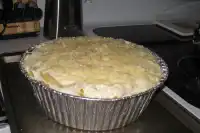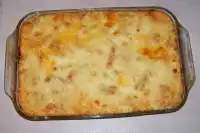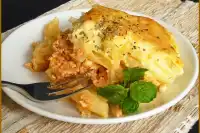 Ready In:

1hr 50mins

Ingredients:

27
directions
Set oven to 350 degrees F.
Grease a 13 x 9-inch baking dish.
In a large pot cook the pasta in boiling water with 1 tablespoons salt until al dente; drain and return the cooked pasta to the pot.
To the pasta add in 1/4 cup melted butter, 1/3 cup Parmesan cheese, pinch nutmeg, 1/2 teaspoon salt and 1 teaspoon ground black pepper; mix until combined then allow to cool slightly.
Add in eggs and mix well; set aside.
For the meat sauce; heat olive oil and butter in a skillet over medium heat; add in onion and crushed chili flakes, cook for about 4 minutes.
Add in garlic and cook for 2 minutes.
Add in extra lean ground beef; cook breaking up the meat with a spoon or fork until browned.
Add in tomato paste, wine, beef broth, salt and pepper; mix well, then cover and simmer over low heat for about 45-50 minutes, stirring occasionally.
Meanwhile while the meat sauce is cooking prepare the bechamel sauce; melt butter in a heavy saucepan over medium heat; stir in flour and cayenne pepper; cook stirring for about 2 minutes.
Add in cream and nutmeg; bring to a boil whisking/stirring constantly then cook for about 1 minute.
Cool for about 10 minutes before whisking in the egg.
Season with salt and black pepper.
Remove about 1/2 cup bechamel sauce and mix into to the already cooked ground beef mixture.
Preheat oven to 350 degrees F.
TO ASSEMBLE; spoon HALF of the ziti mixture into the bottom of the baking dish.
Top the ziti mixture with ALL of the meat sauce, then top with remaining ziti mixture.
Pour ALL the bechamel sauce over the ziti mixture then spread out with a spoon to cover.
Top with about 1 cup grated Parmesan cheese (can use more or less).
Bake for about 50-60 minutes or until golden brown.
Allow to rest for about 20 minutes before slicing.
Questions & Replies

Got a question?
Share it with the community!
Reviews
I have been meaning to review this for a while. I have made this several times and it's great! Just what I was looking for. There is a place in Chicago that serves this and it's my favorite. Chicago is about 3 hours away so needless to say it's a rare treat. Not anymore! I invite my mother in law and her brother over when I make this and they love it, too. I love nutmeg so I add a little extra. I have also used fat free half and half and it's still wonderful! Thanks so much for sharing this recipe!<br/>Update!!!<br/>I just wanted to update my review because I have made some changes over the past few years using this recipe. I have to say that I'm so happy that I have found this recipe. It is wonderful. So for my changes, I no longer add egg to the bechamel sauce. I found that the sauce gets thick enough without the egg. I also cut down on the amount of butter and flour. I use 3 tablespoons of butter and flour. I use the same amount of liquid, but use whole milk with a little cream added. Maybe 2 cups of WM and 1 cup of HC. I also like to add grated Parmesan cheese to the sauce. It's still rich and creamy without all that butter. That's about all I do differently. One person said they thought it was bland, but I don't think that at all. If you season each component of the dish and salt your pasta water, you will get a very savory dish.

 

Excellent recipe for this dish. For those who are less familiar, Pastitsio has subtle flavoring. If you like strong bold flavors only, this dish is probably not for you. If you are a fan of this dish at greek restaurants, you will probably find this quite enjoyable. Takes a bit more work than I can ever do on a week day, but is a wonderful treat when I have the time.

 

I had made this in October and submitted my review and pics, But just realized now that it is not there!! So lets do this again. I had made this dish for my friends family while they were out of the Country and there were 3 teenagers left behind. I made it in the morning and brought it over to them and she just had to pop it in the oven to cook it. I had asked them just to keep me a little portion for my lunch the next day so I would of been able to at least try it.. I had made this recipe as it was written and found it delicious. I used the seasoning salt wherever the salt was asked for and I used a mix of half and half and heavy cream. The bechamel sauce was nice and creamy. If I remember right I threw in a bit of Greek Seasonings in the meat sauce....I just love Pastitsio Pasta, the flavors are always excellent. This isn't a dish I eat every week so when I make it I use everything of the ingredients ...no substitutions for me....There is a major flavor difference to try to cut the calories off of this dish. Thanks Kitten for a wonderful meal. The family I brought it over to really enjoyed it very much, with the Greek Salad I brought to go with it. Yummy stuff!!

 
Tweaks
A very good recipe! I used a whole small can of hunt's tomato sauce instead of just 1/4 cup (I halved the recipe)......Also, I used chicken instead of beef, as I wanted the dish to be leaner. I used Penne and instead of tossing it in butter, I used olive oil...Also, I used margarine in the bechamel..I tried to cut down on the fat and calories as much as possible in this dish...but it still was scrummy!

 

This really is THE BEST Greek Pastitsio! I absolutely adore pastitsio and so decided to double this recipe when making it, and I'm SO glad that I did as this tasted so much more delicious than any pastitsio I've eaten in restaurants. I made only two small changes: in step 5, I added 1/2 cup of red wine instead of 1/2 cup water, and in making the bechamel sauce, I used low-fat milk. I didn't use low-fat cheese because I'd prefer to add no cheese than low-fat cheese. This recipe is rather higher in fat than I'd like, but as long as I only eat this occasionally I'm okay with that. We thoroughly enjoyed this and there are heaps more scrumptious pastitsio meals in the freezer. Another great recipe, KITTENCAL: thank you so much for sharing it!