Pasta, Sausage, Cheese Supreme
J Bowen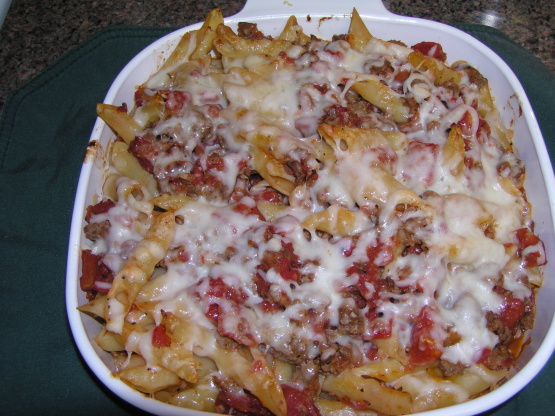 Great recipe from the Cooking Light magazine. What better combination can you get, low fat and delicious.

Great dish! I used a whole wheat pasta, more garlic, an additional cup of cheese and some crushed red pepper flakes. Perfect comfort food! ***Made for Spring PAC 2010***
Preheat oven to 350.
Cook pasta according to package directions, omitting salt and oil. Drain the pasta and place in large bowl.
Remove casings from sausage. Cook sausage, onion and garlic in nonstick skillet over medium heat until browned, stirring to crumble. Add the tomato paste, salt, pepper and tomatoes, bring to boil. Cover, reduce heat, simmer 10 minutes, stirring occasionally.
Add sausage mixture and basil to cooked pasta, toss well. Place half of pasta mixture in 4 quart casserole dish, coated with cooking spray.
Top with half of mozarella and half of parmesan cheese. Repeat layers. Bake at 350 for 25 minutes or until bubbly. Yield : 8 servings.