Marz7215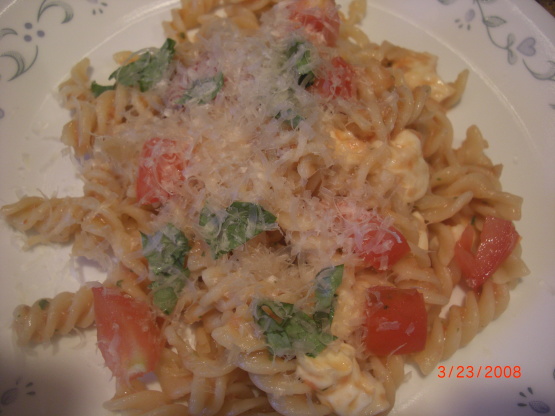 This recipe is so simple it demands good homegrown tomatoes and fresh basil. Perfect for summer.
Put a large pot of water on the boil for the pasta.
Put aside 1 cup of the tomatoes and a couple of basil leaves.
Puree the rest of the tomatoes, basil, garlic and olive oil in a blender until smooth.
Season.
When the pasta water is boiling, stir in the pasta and cook until al dente[approx 10 minutes].
In the meantime cut the reserved basil into thin strips.
Drain the cooked pasta and toss it immediately with the mozzarella.
Add the sauce and mix well.
Top with the reserved tomatoes and basil.
Serve immediately.