Pasta, Asparagus & Marinated Tomato Salad
Tisme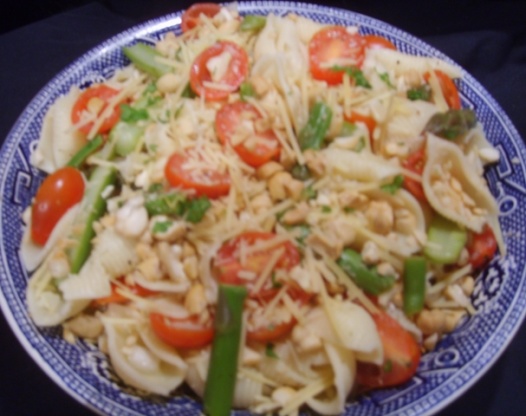 I got this recipe from the Delicious magazine. A light and easy pasta salad, I do use more asparagus in my salad and top with grated parmesan cheese. The original recipe did not call for mustard, but I tried it with mustard and the family loved it. So you could use more or less mustard if you choose.
Cook the pasta in a pan of boiling salted water according to packet instructions. Rinse under cold water, then drain well.
Meanwhile, combine the tomatoes, spring onion, oil vinegar and mustard in a large bowl and season to taste with salt and pepper. Leave to stand while the pasta cooks.
Cut the tips from the asparagus. Halve the stems lengthways, then cut into 3cm lengths. Place the tips and stems in a heatproof bowl and pour over enough boiling water to cover. Stand for 1 minute, then rinse under cold water and drain.
Add the asparagus and drained pasta to the tomato mixture, season to taste with salt and pepper, and toss to combine. Divide among serving bowls and serve.