Debber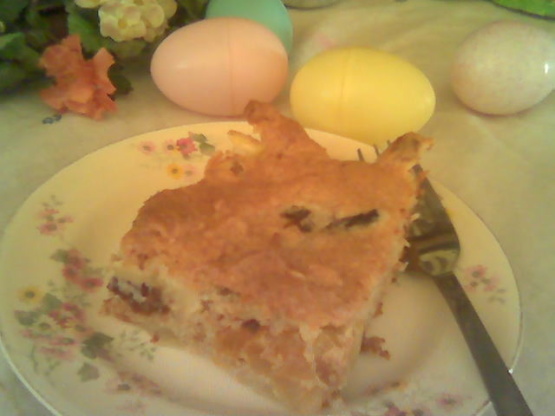 The recipe is being posted for ZWT II. The recipe source is: holidays.net/passover/recipes/pasfrut. SPECIAL NOTE: The author commented that "I first came across this recipe as a low-cholesterol concept for Pesach cooking. My family loved it, but I found it horribly sweet. Because dried fruits are themselves so sweet, I think the sugar can be cut to 3/4 cup (even 1/2 cup). My guess is the oil could also be cut to 3/4 or 2/3 cup. Other fruits can be substituted. I used dried pears (for example) when I couldn't find pineapple." (Times do not include soaking time for fruit)

Top Review by Debber
This was very good, but didn't get me all the way to "Love". Very neat way to present fruit, and extremely appropriate during Holy Week. Didn't have dried pineapple, so subbed in some dried (tart) cherries--that REALLY was a neat surprise to bite into one of those. Used pulverized dried bagel chips for the matzo meal (after checking the Zaar dictionary to see if it would be compatible)--which gave a very nice flavor to the whole thing. Something different and special for Lent. Thanks twissis for something different and unusual (well, for us at least!).
1⁄2 cup dried apricot
1⁄2 cup prune
1⁄2 cup dried pineapple
1⁄2 cup raisins

3

apples (pared & sliced)

9

egg whites

1

cup oil

1

cup sugar

1

cup fine matzo meal
Put apricots, prunes & pineapple in a bowl. Pour boiling water over them to cover. Let stand for at least 1 hour & drain.
Add raisins & sliced apples.
Beat egg whites (adding sugar gradually) to a stiff meringue. Add oil & matza meal. Mix thoroughly, but gently. Fold batter into the fruit.
Transfer to an oiled, glass baking dish (about 12"x15"). Sprinkle w/cinnamon & bake 45 minutes at 350 F or 160°C.
NOTE: The RZ system apparently doesn't accept matza as a correct spelling & chgs the word to matzo -- despite my efforts.